Our Mission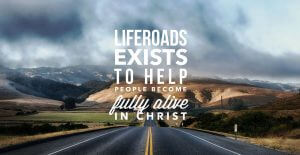 Liferoads exists to help people become fully alive in Christ.
The Glory of God is man fully alive. — St. Irenaeus
There is a difference between living and being fully alive. In fact, in the Bible the difference really stands out when you look at the language the Bible was originally written in – Greek. Here are two of the original Greek words in the Bible that describe life. One isBios and it describes something that is biologically alive. Something that is living and breathing has Bios life. The second word is the word Zoe. Zoe describes something that has a vital, eternal life. It's the kind of life that people only get when they are properly related to their Creator. In fact Jesus, himself said that he actually came to earth so that people could have this kind of life.
"I came that they may have life (Zoe) and have it abundantly." — John 10:10b
Our church exists for the purpose of making this life known to people by helping them begin a relationship with Jesus and then helping them grow fully into this life through that same relationship. We believe that our ultimate joy comes from this "Zoe" life. We were made for this kind of life! Psalm 16:11 "You make known to me the path of life; in your presence there is fullness of joy; at your right hand are pleasures forevermore."