We have been working to help a school in Uganda reach it's community with the love of Christ since 2007 and God has done some pretty amazing things already. Our most recent project has been helping the Mityana, Uganda community construct a new school building. If you would like to make a donation to help us complete construction. You can do so here.
New Life Primary School Construction
New foundation being started
Foundation and flooring
Completing the walls
Walls complete and roof framed
Structurally complete with roof!
Next up: Windows & doors!
Let the classes begin!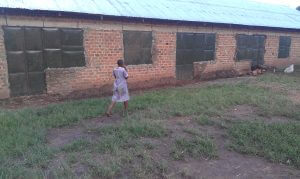 Doors and windows were completed in early 2015! Our progress on all of the finish work has slowed down due to our church's recent move to a new location. If you would like to help complete the construction (plastering, paint, flooring and school desks) we would greatly appreciate it. You can head to this link to give online.
Check out some of our videos below of the last trip to Africa and an interview with Ronnie about some of the needs of the community of Mityana:
---