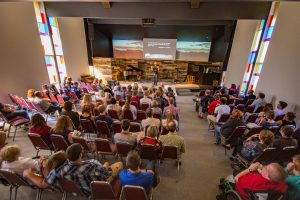 This Sunday, Liferoads will be holding a drive in/ outdoor service in our parking lot.
Here is what you need to know:
For the last few weeks, we have held a drive-in Sunday service in addition to streaming the service online. It has been so good to see many of you in person after so many weeks apart. New guidelines were announced about how churches can meet safely during this Covid-19 pandemic. This Sunday at 10am, we will be modifying our drive-in service by adding an additional outdoor seating component. We are calling it a "drive-in/outdoor service with social distancing." What that means is that you are welcome to be a part of the service from your vehicle by tuning in to the FM radio station as we've done the last few weeks. Additionally, you are also welcome to park on the street next to the church building and set up your camping chair or a blanket spaced out in one of our outdoor seating areas. We are excited about this plan because we will be able to interact more with each other in person than we have been able to in previous weeks AND we will have more room for anyone who wants to join us with the different seating options. As always, we will continue streaming the service to our Facebook page so if you do not feel safe yet attending a service in person, you are welcome to join us online from the safety of your home. Please know that we are absolutely supportive of that decision as your church family. This week is going to be a great time together! We cannot wait to see you and worship with you whether that is online or in person.
· The sermon notes, announcements and worship song lyrics can be found on the Youversion Bible app under "Events." Download the Youversion app on your phone before the service so that you can follow along.